By Sean Pearson
Area Size: 55 x 42 yards
Teams: 5 v 5 + 3 (Extra defenders)
Time: 20 Minutes
Objectives
To slow the attackers down
To realize who is the closest defender and 'double up' on the attacker
Set-Up
There are 3 areas, 2 large end areas and a middle zone (5 yards wide) where the 3 defenders occupy their own personal zone between cones. Depending on numbers, separate the middle zone into 2 or 3 equal areas for each defender. 3 defenders and 2 attackers are in each end zone.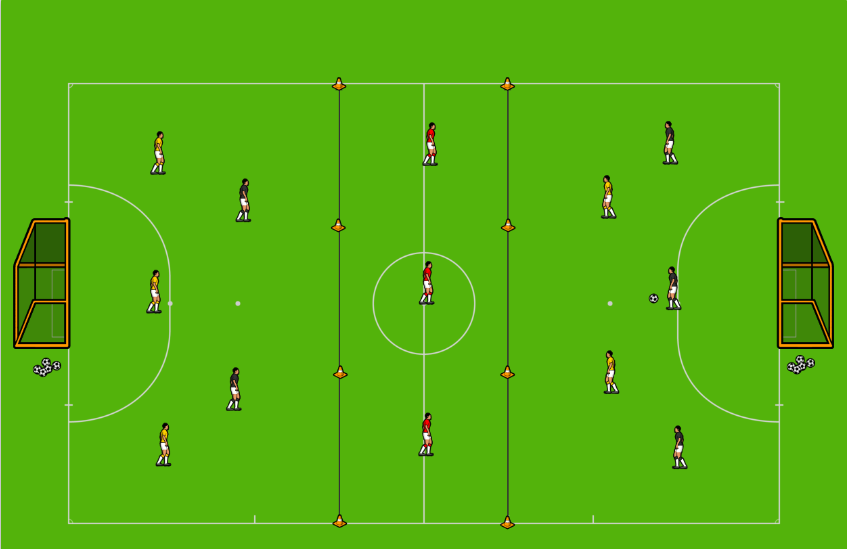 Execution
The attacking teams are aiming to score in the goals but only the 2 attackers can score. There are no GK but with a 3 defenders it should make it more difficult to score. The team in possession is looking to pass through the middle zone to their strikers. The defenders on the opposite side are not allowed in front of the attackers to intercept the ball as this is not what we are working on. But what you want them to do is to step close to the attacker to deny them the ability to turn and shoot. They should be 1 arm's length away and side on and their main aim is to slow them down not to tackle them.
Whichever defender in the middle zone is nearest, determined by which cones the attacker is in between, is allowed to help defend and win the ball off the attacker. This term is called 'doubling up' on a player making a 2v1 scenario.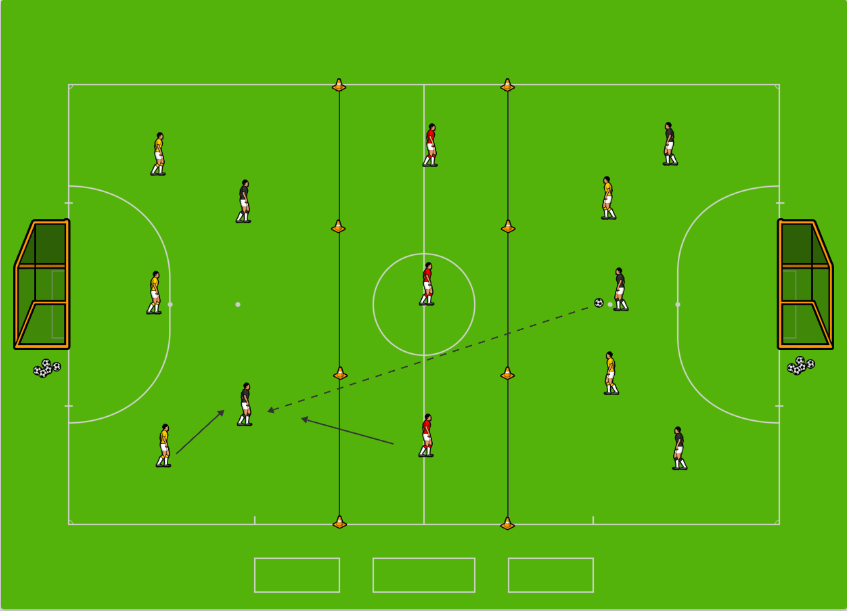 As soon as they win possession they must pass to another defender on that side of the field. The middle zone defender then returns to their original position.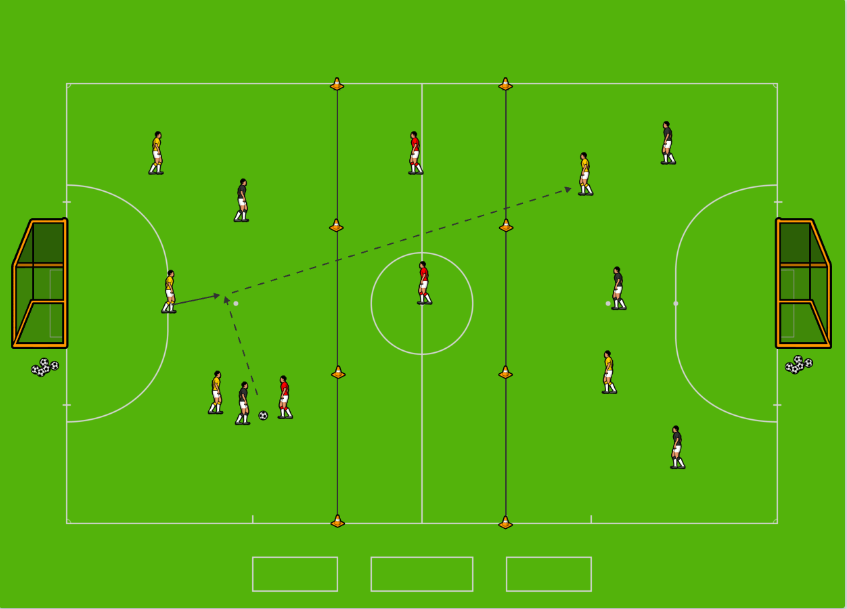 Because the attacker is in a different area of the field there is a closer defender in the middle zone to double up. Therefore, the defender behind the attacker slows them down and denies them the ability to turn and shoot and the second defender wins the ball.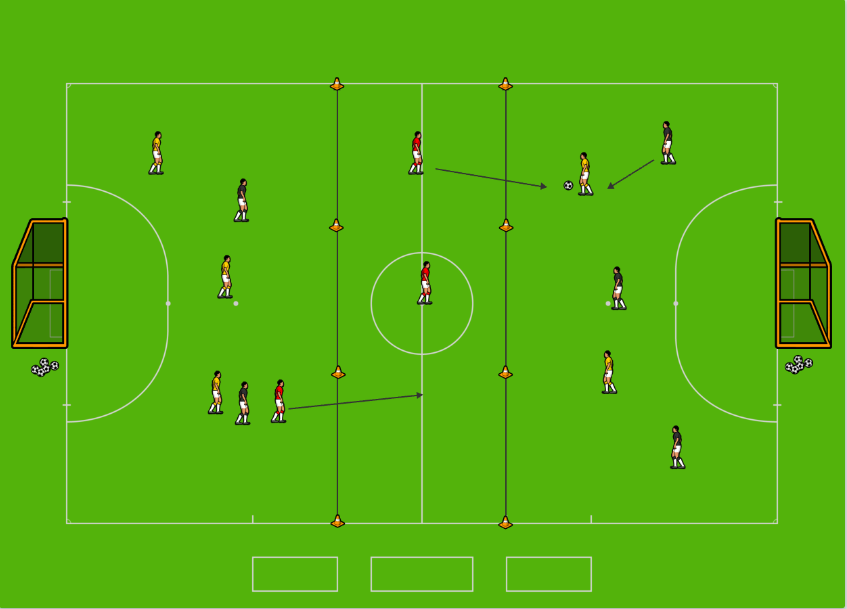 When a scenario occurs where there is a large distance between the defenders in the middle zone and the attacker it is then the responsibility of another defender, who is closer, to double up. This gives opportunities for decision making, increasing player's awareness of the scenario and communication.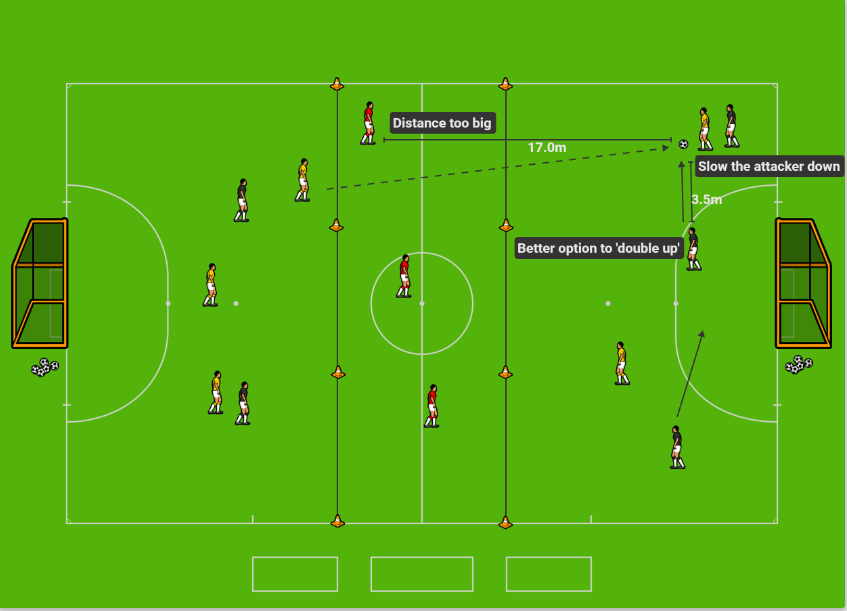 Variations
Depending on numbers have 2 defenders in the middle zone.
Allow a player who is defending to move into the attacking area when their team is in possession.
By Sean Pearson.  Sean is also the author Coaching Team Shape in the 3-3-1, Coaching Team Shape in the 4-2-3-1  and Coaching Team Shape in the 4-3-3